Great North,
in the footseps of Jack London

"Gold! Gold! Gold!" In 1897, Jack London hears the call of the Great North when 40 men disembark from The Excelsior, their pockets burgeoning with gold. Their cargo? One ton of pure gold found in the Klondike worth 70,000 dollars! Jack London is 21 years old when the news breaks. He has done plenty of odd-jobs, even being a pirate in San Francisco Bay, why not gold-seeker too? He decides to take a chance. July 25, 1897, he boards a ship for Skagway, Alaska.
There will be more than 250,000 like-minded souls vying for their fortunes between the years of 1897 and 1899. 50,000 will arrive in the end, but few will find gold. Jack London spends one winter in the Great North but in the summer of 1898, suffering from small pox, he descends the Yukon River towards the Bering Sea in order to board a boat back to San Francisco. He does not return with gold, but instead with a treasury of stories. After a long battle with his publisher, "The Son of the Wolf" is finally released. It is a success, a fortune made in the Klondike without pick or pan.
The stories of London in the Great North accompany this voyage to the Klondike and we will take them along to meet characters not unlike those he wrote about: Trappers, Indians, Mushers, Missionaries, and Gold-seekers…
You may order this book by writing to us or through the following websites:

Site FNAC : http://www.fnac.com/
Site amazon.fr : http://www.amazon.fr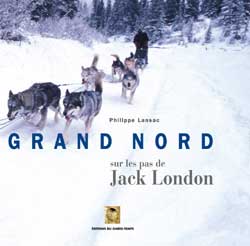 Aux éditions Garde Temps

Ouvrage broché
Format : 24 x 24 cm
128 pages quadri
ISBN : 2-913545-34-3
30€
Released October 2004