Perfumes of India
In the beginning, there were the first materials: spices, roots and flowers, cultivated from ancient times, sought after by all civilizations and coveted by the Vasco de Gama when he disembarked on the Malabar Coast. Kerala remains one of the principle places where these valued essential oils are found: spices, vetiver, jasmine, tuberose and sandalwood.
The arrival of the the Moghuls in the 17th century from India, imported their refined and new techniques of perfumery: Attar is a distillation of flowers from a base of sandalwood. It is still produced in Kannauj, in the north of India.
In religious rituals, perfume also plays an equally important role. Sandalwood is ground into a form of pate that is after placed on the foreheads of morning worshipers.
For the Indians, body and soul are one. The use of creams, perfumes and hair treatments hair form an art of living even today, and are based in both beauty and health.
5 perfumes have been specially created for this book by Nicolas de Barry: fresh ginger, the lasting aroma of tuberose, attar of rose, vetiver for the maharajas, sandalwood.
This book is a collaboration of Nicolas de Barry, perfumer and writer, and Laurent Granier.
You may order this book by writing to us or through the following websites:

Site FNAC : http://www.fnac.com/
Site amazon.fr : http://www.amazon.fr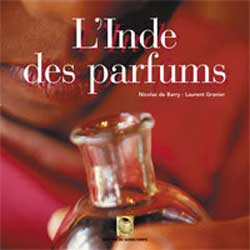 Aux éditions Garde Temps

Ouvrage broché
Format : 22 x 22 cm
96 pages quadri
ISBN : 2-913545-33-5
30€
Released October 2004